"Freedom is useless if we don't exercise it as characters making choices…Few things are as encouraging as the realization that things can be different and that we have a role in making them so." – Daniel Taylor
A Key To The Past
The brass keys made a slight clinking noise as Joe, the hotel's front desk manager moved toward me. I felt the coolness and weight of the metal as he dropped them into the palm of my hand. It seemed like a long time since I'd had the rush of excitement of a real, true adventure. This wasn't the adventure of world travel, spelunking in dark caves, crossing an ocean, or being a high roller. It was the anticipation of what might be behind a door, something that promised to take me into another time. Joe must have sensed my momentary drifting as he called me back to the present, reminding me that my room was on the third floor. He pointed to the elevator and stairwell and said, "You can use either to get to your room."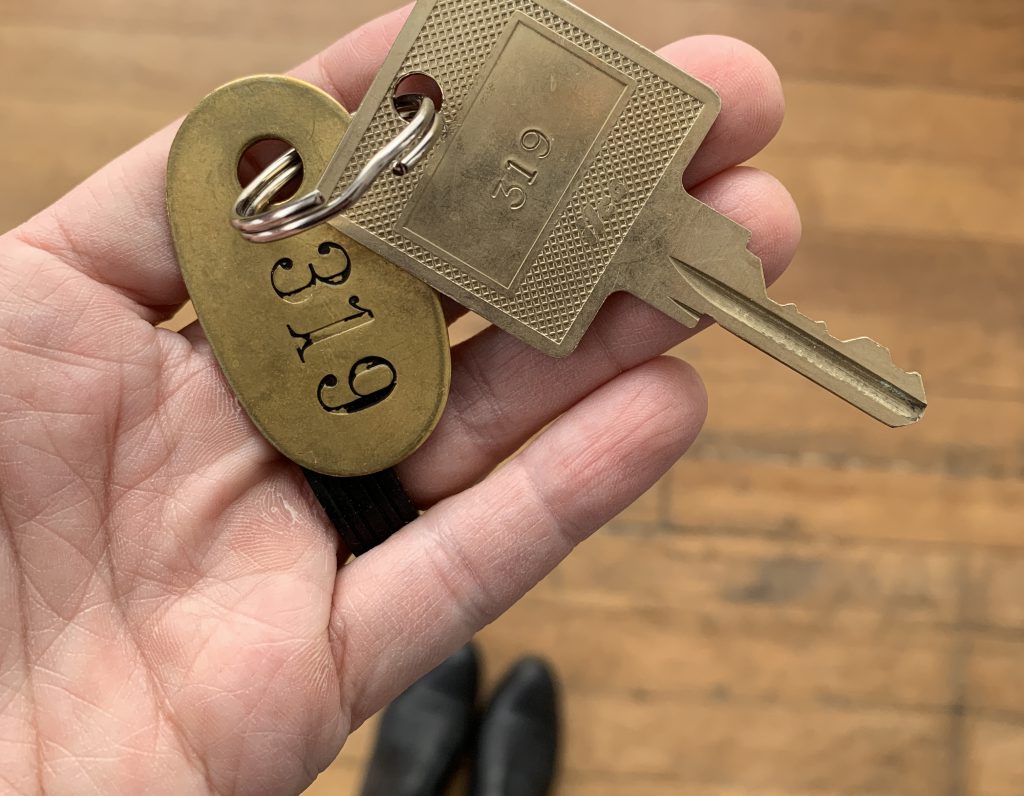 Follow The "Yellow" Brick Road
I couldn't resist the stairwell as I peaked around the corner and saw the steep, narrow assent into natural daylight that must be coming from a skylight several floors up. Just slightly out of breath as I reached the top, I turned to the right to see my door waiting at the end of a black and white checked carpet runner, my yellow brick road. Once at my door I inserted and turned the key, initiating a loud thunk as the lock went into the open position. It was an anchoring feeling that was a contrast to the feathery click made by key card entrances in modern hotels.
I swung open the door and my face was instantly flooded with natural light coming in through a wall of windows that stretched the height of the 12 foot ceilings. The scuffed yet sturdy hardwood floor creaked beneath my feet as I entered. The charm and history of the space was mixed with the scent of having been freshly cleaned and prepared for the next guest of honor and I thought, "Today that's me!"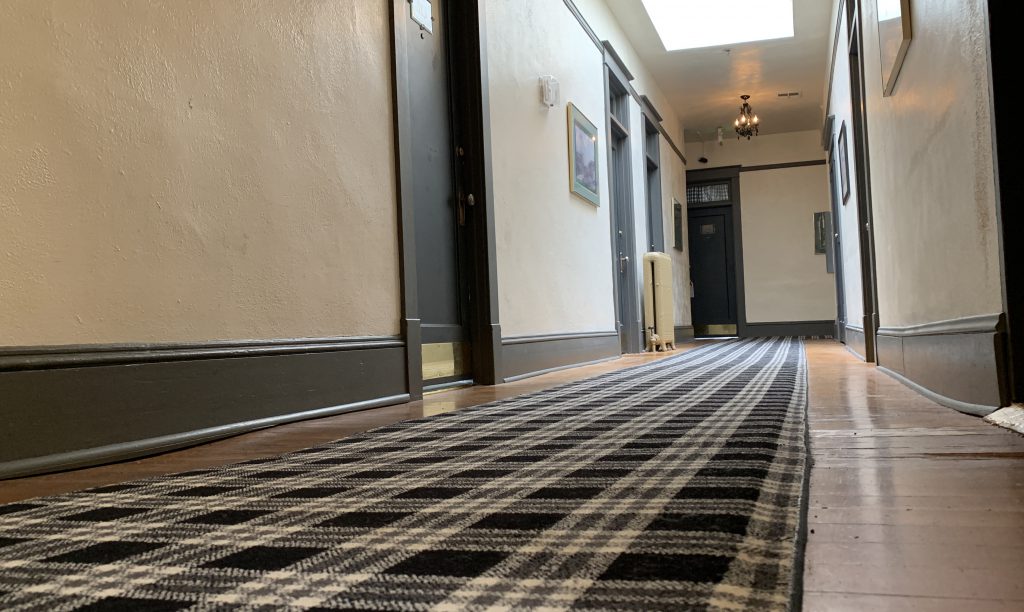 The Ghost In The Window
I looked out the third story window boasting the upper half of the neon sign that read Hood River Hotel. As I scanned Oak street below I had thoughts of the past and that more than a hundred years ago there would have been a woman about my age who stood looking through this same window. I saw what seemed to be a reflection of her. Was this hotel a stop along the way? Where was she going? Was she scared like I get sometimes when I anticipate big changes in life or was she drenched in the excitement of the adventures that lay ahead of her? In her lifetime did she ever fully accomplish what she set out to do? Like a lot of people we easily put the seemingly ominous "big changes" off until tomorrow but for her, tomorrow is gone.
I sat down on the grey, button tufted sofa and thought about something I read in John Eldredge's book Wild at Heart, "Freedom is useless if we don't exercise it as characters making choices." Shocking when you think about it this way, if I'm living a passive life I'm really not free at all. If I just wait and see what happens or simply hope for the best without making specific motion toward my goals, I'm not living in freedom. This quote by Daniel Taylor (out of Eldredge's book) goes on to say, "…Few things are as encouraging as the realization that things can be different and that we have a role in making them so." Not only do you have a role in your life, you are the main character. Things will start to happen when you decide to make them happen. Until then it's the continued bondage of…come what may.
Take The Part
If you want a life of purpose and intention, and the strong hope of change, it will only rise up if you take the biggest role of your life and make it so.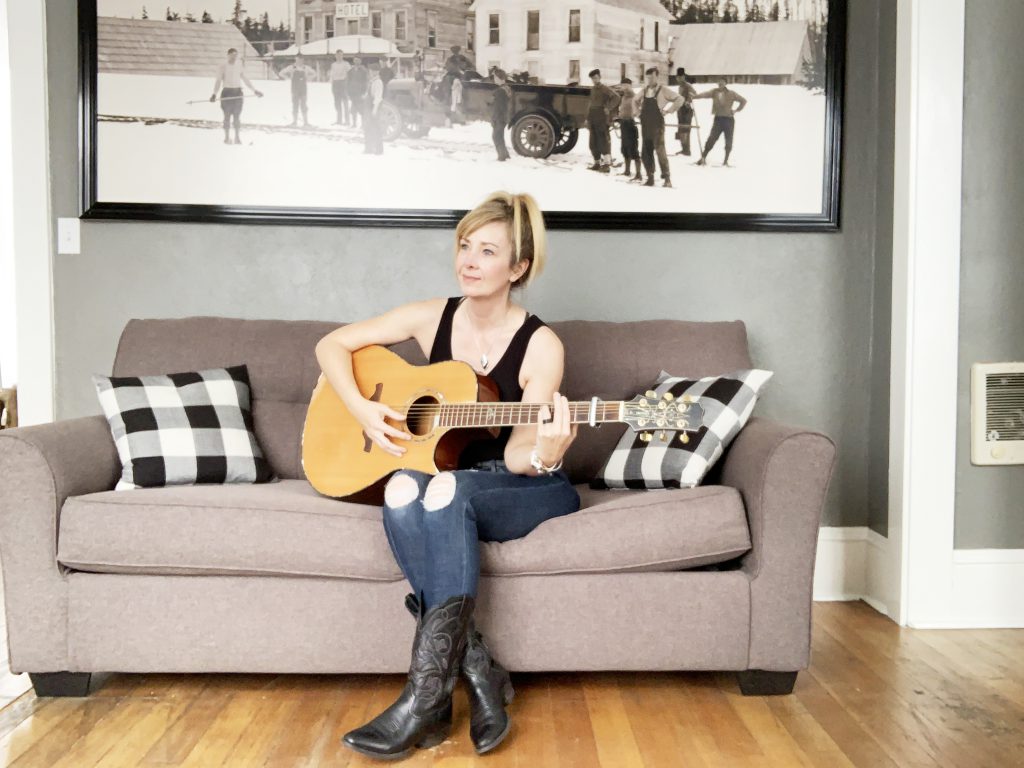 Dawna Stafford is a northwest singer-songwriter described as a folk rock star. Her acoustic arrangements and vocals are soulful and raw. Her style is an upbeat fusion of modern folk and light rock, delivering live performances that are fun, diverse and relatable. Audiences love the dynamic range from upbeat and tempo driven to melodic and thoughtful. Dawna is a versatile artist who knows how to engage and entertain people with a mix of both originals and familiar cover songs that span the decades. Click here for booking or to request more information.
About Hood River Hotel
An affordable boutique hotel in the heart of downtown Hood River
Built in 1912, the Hood River Hotel is a historic landmark that has been lovingly restored to accommodate today's busy travelers. Guests can unwind after a long day of travel or exploring the local trails by taking a nap in our luxurious European linens, catching up on emails with our free Wi-Fi, relaxing in our dry sauna, or sipping a glass of wine next to the fireplace.
For more information about Hood River Hotel, room booking, event booking or special events visit www.hoodriverhotel.com.