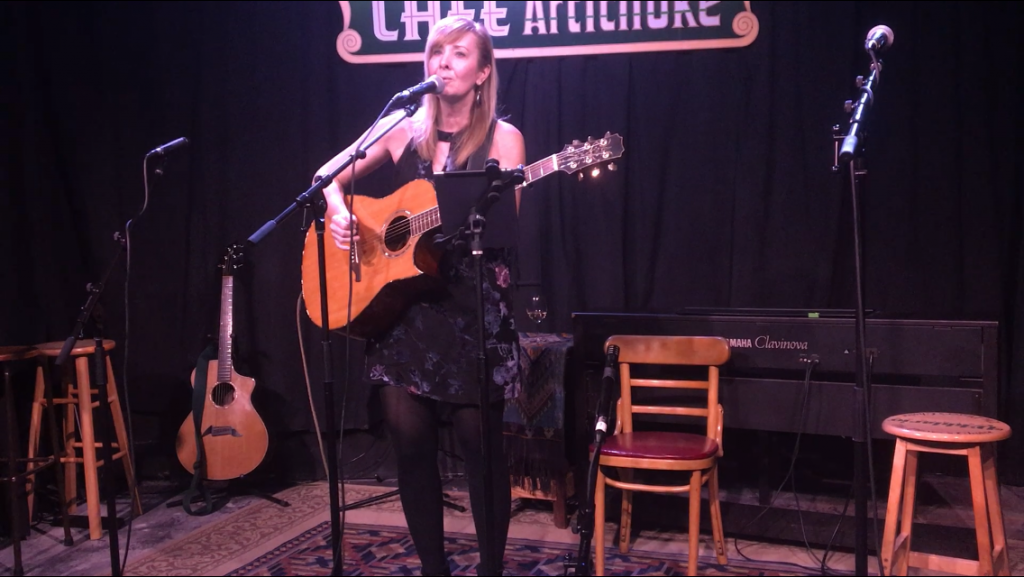 Artichoke Music is a nonprofit in Portland, Oregon offering an event space, classes and a store that sells instruments and gear. Cafe Artichoke is one of the Pacific Northwest's rare and needed "listening rooms". Musicians of every style and genre have an opportunity to perform in a great sounding space, supplied with an in-house PA, trained (volunteer) sound tech, and friendly environment. Everyone is welcome from professional, touring artists to budding songwriters.
Toward the end of my first year as an independent solo artist, I booked to play in the listening room at Artichoke and it was one of my best experiences of the year. The Friday night performances start at 7:30 with doors opening at 7:00. When I arrived at 6:45 the space was already more than half full of eager patrons excited to spend their Friday night soaking in the sounds. Artichoke Music attracts an attentive, listening audience of up to 60 people. This space is perfect for songwriters who are anxious for their music to be heard in such an respectful and vulnerable space.
Why I loved playing at Artichoke Music
The Venue has a loyal following. I write songs. I'm a creative. As with any artist, when we create, part of that creation process is to be able to share what we've made. We may play great shows where we feel we genuinely entertained people, but how often can the more vulnerable parts of what we write truly be heard? The listening room at Artichoke was full of people who came there with the intention of listening to and supporting local, original music. Yes, I invited my friends and fan base but it was refreshing to walk into a space that has a following due to its own revered name and support of the local community.
They don't pay musicians but… Artichoke Music is a non-profit. One of the things that has been on my list of goals in my first year as an indie artist is to get paid when I play. Doesn't every artist want that respect? Artichoke doesn't pay their artists however, I made an exception in this case because it's such a supportive and respectful venue with significant opportunity of growing your following. They allow promotion and sales of CD's along with a shared tip jar at the end of the night. The event's cover charge goes to support the venue but the host encourages patrons to fill the tip jar for the artists. I didn't leave empty handed!
The stage is well lit. I don't consider this trivial in the least. If you're a musician, how often have you played on a rickety, old stage in the dark? The stage should be a place where you can represent yourself well, not only being heard but also seen. If you're poorly lit, it detracts from you being the focal point in the room (even though a lot of bars want the beer to be the focal point). Also, when the stage is dark your photos and videos look terrible. Again, not trivial considering that at the end of the day, most of your friends couldn't make the live show and all you have left are your pics and vids. If they look bad, we delete them and then have that thought…never mind I guess I never actually played there since I don't have proof. LOL Many venues that offer live music make almost zero consideration for staging and lighting but it always matters. Artichoke Music has done a great job of lighting the stage area.
We can hear you. I've lost track of how many times I've played what I thought was a great set only to be told at the end of the night, "We could barely hear you." I know some rock bands blow the roofs off of bars and concert venues but I have a gentler delivery. Even my upbeat tunes need to be properly amplified, isolated and distributed to be heard in a bustling pub or wine bar. The patrons at Artichoke Music are there to hear YOU and the venue staffs a trained, volunteer sound tech who mixes sound throughout your set.
If you can take advantage of the opportunity to either visit as a listener to soak in the sounds or to play at Cafe Artichoke, do it!
There are 3 options for musicians to play in the listening room at Artichoke Music:
Thursday Open Mic
No booking arrangement is necessary for Thursday night. Thursday shows start at 7 pm with doors opening at 6:30 for those who want to put their name in the hat to play
Friday Night Coffeehouse
Friday nights feature half-hour showcases for four artists. These showcases are booked several months in advance.
Saturdays – Premier Concerts
Saturday nights are reserved for professional, experienced performers with a proven following in Portland.
To request booking for either the Friday Night Coffeehouse or Saturday Premier Concerts, use the submission form on the Artichoke Music website. To learn more about Artichoke Music and follow them on social media, visit their website at artichokemusic.org.
Dawna Stafford is a northwest singer-songwriter. Described as sensitive and lyric driven, Dawna's acoustic arrangements and vocals are soulful and raw. Her style is an upbeat fusion of modern folk and light rock, delivering live performances that are fun, diverse and relatable. Audiences love the dynamic range from upbeat and tempo driven to melodic and thoughtful. Dawna is a versatile artist who knows how to engage and entertain people. For live demos and booking information click here.