Calcagno Cellars Winery has a tasting room located in Troutdale Oregon right on the Historic Highway. At just 20 minutes from Portland and easy access from Interstate 84, Calcagno Cellars is a perfect stop whether you're local or just passing through. Co-founded by Kristi and Frank Calagno, they have a passion for creating boutique wines that stems from a very diverse background. Click here to learn more about the team at Calcagno Cellars.
The winery often features live, acoustic music which plays beautifully in the natural resonance of their tasting room. I was asked by Shauna Nokleby, Director of Sales & Hospitality, if I'd be willing to play in December and weave some special holiday music into my set. It was a privilege to perform in this respectable, upscale venue. The space is flexible so furniture and seating can be moved to accommodate the musicians.
Specializing in Bordeaux-style reds and sourcing their grapes from Rattlesnake Hills in Yakima Valley, WA, Calcagno Cellars Winery reflects the romance of new world and old. Their staff is experienced in wine making and hospitality. You'll feel like part of the family when you walk in to have a flight or enjoy a bottle of your favorite wine. The focus at Calcagno Cellars is definitely on the wine with cheese and meat plates to compliment the tastings. Learn more about their vineyards here.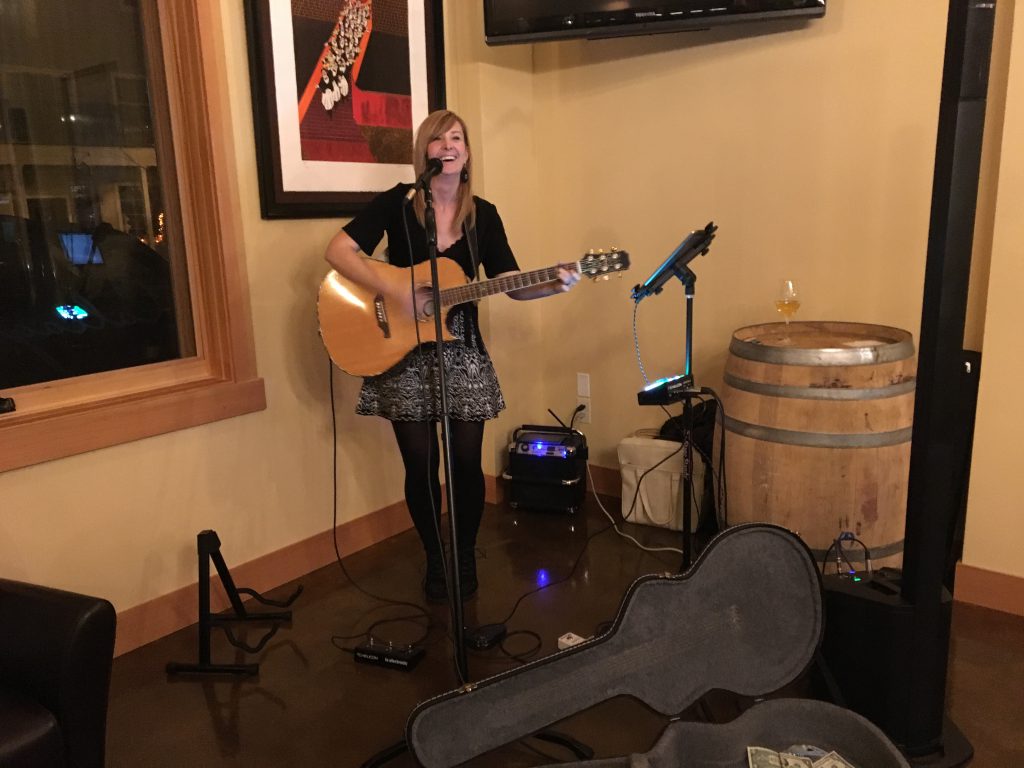 Shauna was kind enough to give me this review after my December performance:
"Calcagno Cellars was fortunate to host the sweet sounds of Dawna Stafford in our downtown Troutdale tasting room. Our customers enjoyed listening to her guitar-accompanied vocals with her original music, covers, and holiday tunes while sipping their wine. Thank you to Dawna!"
Calcagno Cellars Winery is a jewel on the historic highway in Troutdale surrounded by picturesque boutiques, restaurants and shops. Be sure to stop in for a flight and leave with a bottle of your favorite wine. Also consider scheduling a tasting party to kick off a celebration of your next event. Visit the Calcagno Cellars website for more information and for tasting room hours at www.calcagnocellars.com.
Saluté!
Dawna Stafford is a northwest singer-songwriter. Described as sensitive and lyric driven, Dawna's acoustic arrangements and vocals are soulful and raw. Her style is an upbeat fusion of modern folk and light rock, delivering live performances that are fun, diverse and relatable. Audiences love the dynamic range from upbeat and tempo driven to melodic and thoughtful. Dawna is a versatile artist who knows how to engage and entertain people. For live demos and booking information 
click here
.