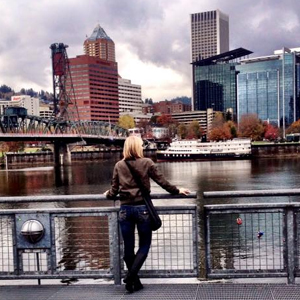 I went to an event downtown Portland and was getting to know some of the people who were sitting with me at the table for lunch. One of the girls was only in Portland for the day and wanted to do some sightseeing before her flight out later that evening. She wanted to get ideas of what she should definitely do in the short time that she was there. Everyone at the table gave her idea after idea of where she should go eat. I understand that local cuisine is at the top of the list when traveling to new places but we were already eating lunch and she just had a few hours before needing to be at the airport for her flight out. So, she should hail a cab and make sure to try Blue Star Donuts and hit up a few of the food carts in Cartlandia?
I know that food is a passionate subject (to say the least) and we NEED it and it can, and should be enjoyed. Food meets us on a soul level which is why it becomes a spiritual battle when any of us works to get our nutrition in order. I was still surprised that I was the ONLY ONE at the table that suggested something to do that didn't involved eating. I told her, "You're so close to the waterfront. Make sure you get down to the river and see the skyline and cityscape. It's gorgeous!" It wasn't until I mentioned the waterfront that one of the other people at the table said, "Well, I only think about food!"
Don't come to Portland and miss THIS view because of a donut! Even IF it's a famous donut. It's still JUST A donut!
Stop living life through the lens of food and missing the point or the view in everything that you're doing. Stop living from meal to meal, treat to treat, restaurant to restaurant or drink to drink and missing everything in between. A lot of our perspective change starts to happen when we can begin to put our relationship with food in its rightful place. It really can start with the first decision to go SEE or DO something that doesn't involve food. Maybe it requires a little more thoughtfulness but oh so worth it.
Dawna